So there's been a little bit of radio silence on my end since the last blog post. Christmas season took off like a storm and about a month ago a Texas based company hit me up asking if I could make cutting boards for client gifts. This is by far the biggest order I've ever had. The purpose of this post it to explain the process of a big order, to warn others of mistakes, to thank a few people, and to just have something to do while I lay in bed and watch King of the Hill. 
First, the board the company wanted 95 of weren't just your basic face-grain boards. They wanted something similar to a very popular style that we sell, but instead of walnut with maple accents, they wanted cherry with walnut accents. Oh, and they wanted them to be 12x16x1.5. That's a lot of wood.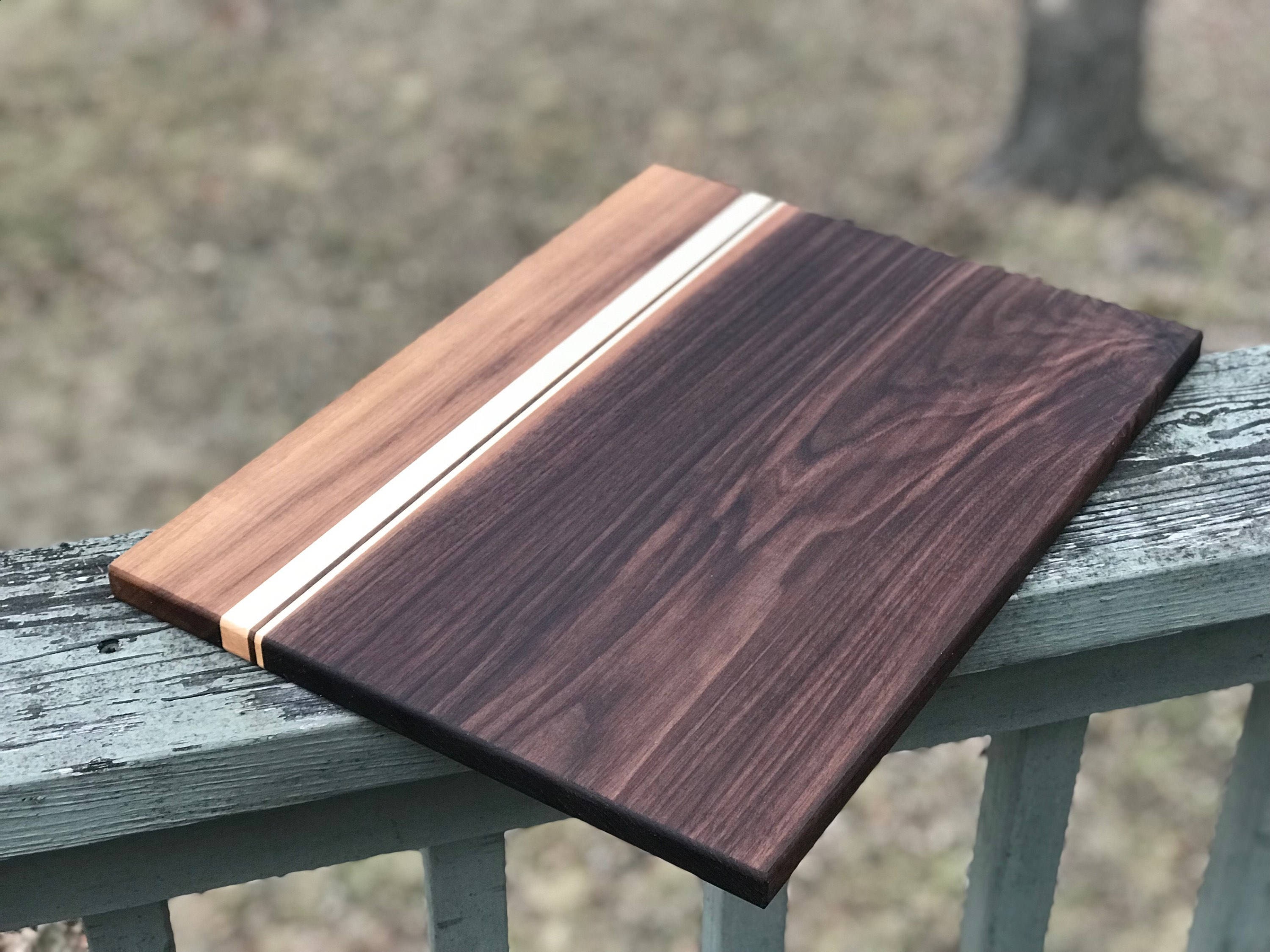 My biggest mistake with this order was in my initial quote. I was too excited about the order and made the rookie mistake of not realizing that 8/4 (or 1.75" thick) lumber is essentially double the price than I what I worked into my quote. Luckily, this was remedied mostly by switching to 6/4 (or 1.5" thick). This reduced material costs by about 30% while also allowing me to use less material per unit. But instead of focusing on mistakes, let's instead talk about the process. 
The first step, of course, is picking out the lumber. I am forever grateful for U-Pick Hardwoods in St. Charles, MO for being the most consistent, reliable, and all-around great supplier I could ask for. When I started W&L I looked around the area for a couple months without finding a supplier with great service, a large selection, and prices that didn't melt your face. Luckily I found all of that in U-Pick. I've said it before but without Craig and Eric from U-Pick, I wouldn't be in business.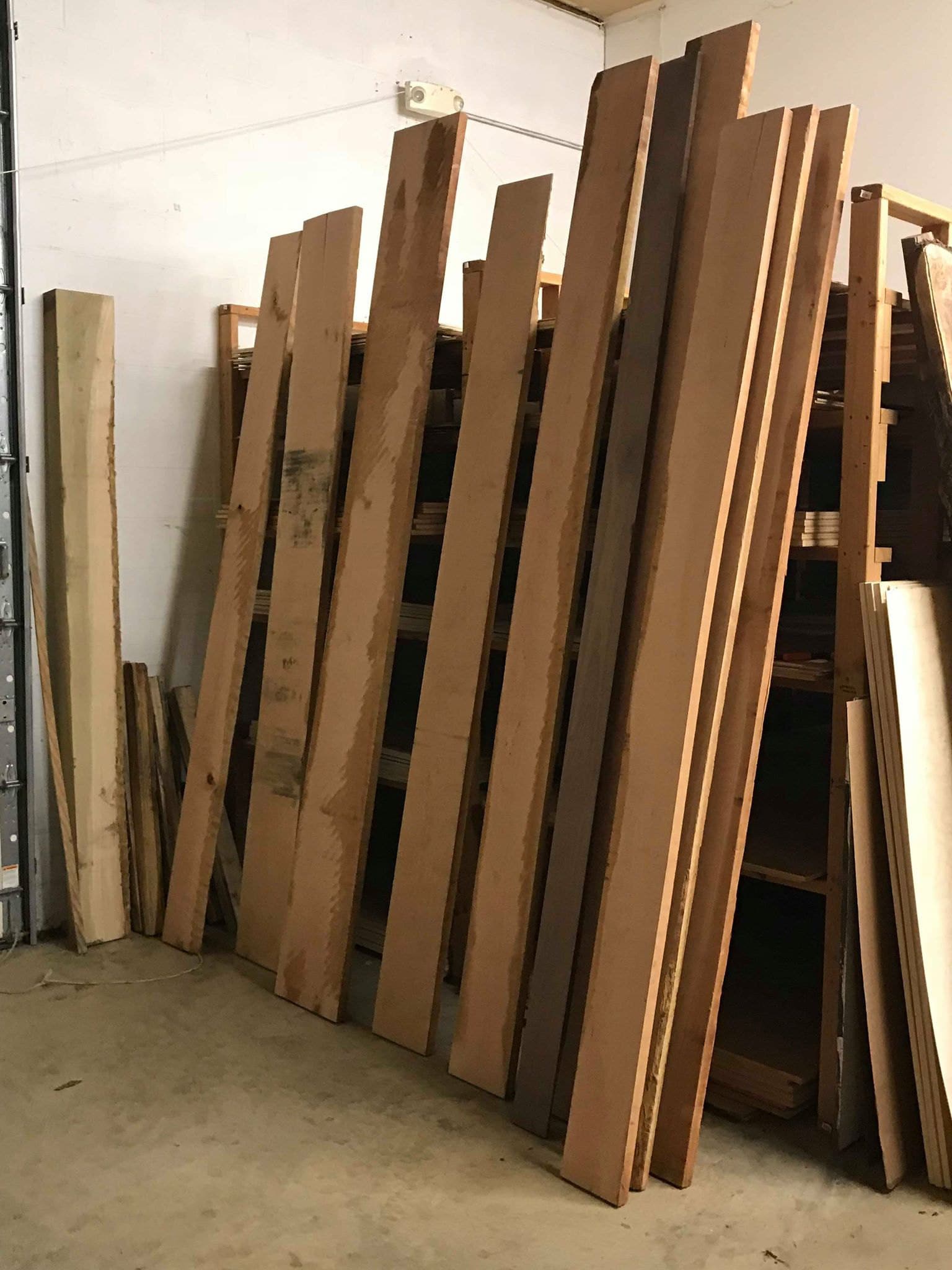 This is the first of three trips that ended up with me completely raiding their pile of 6/4 Cherry, looking for pieces with the right width, but not too wide as to not ruin their selection for other customers. I also needed an absolute ton of walnut for the accent pieces, but since I hadn't started doing the boards yet, I wasn't exactly sure on specifics. So the first trip was essentially just buying a bunch of stuff that I know I needed a lot of with the intention of returning when I knew more specifically what I needed.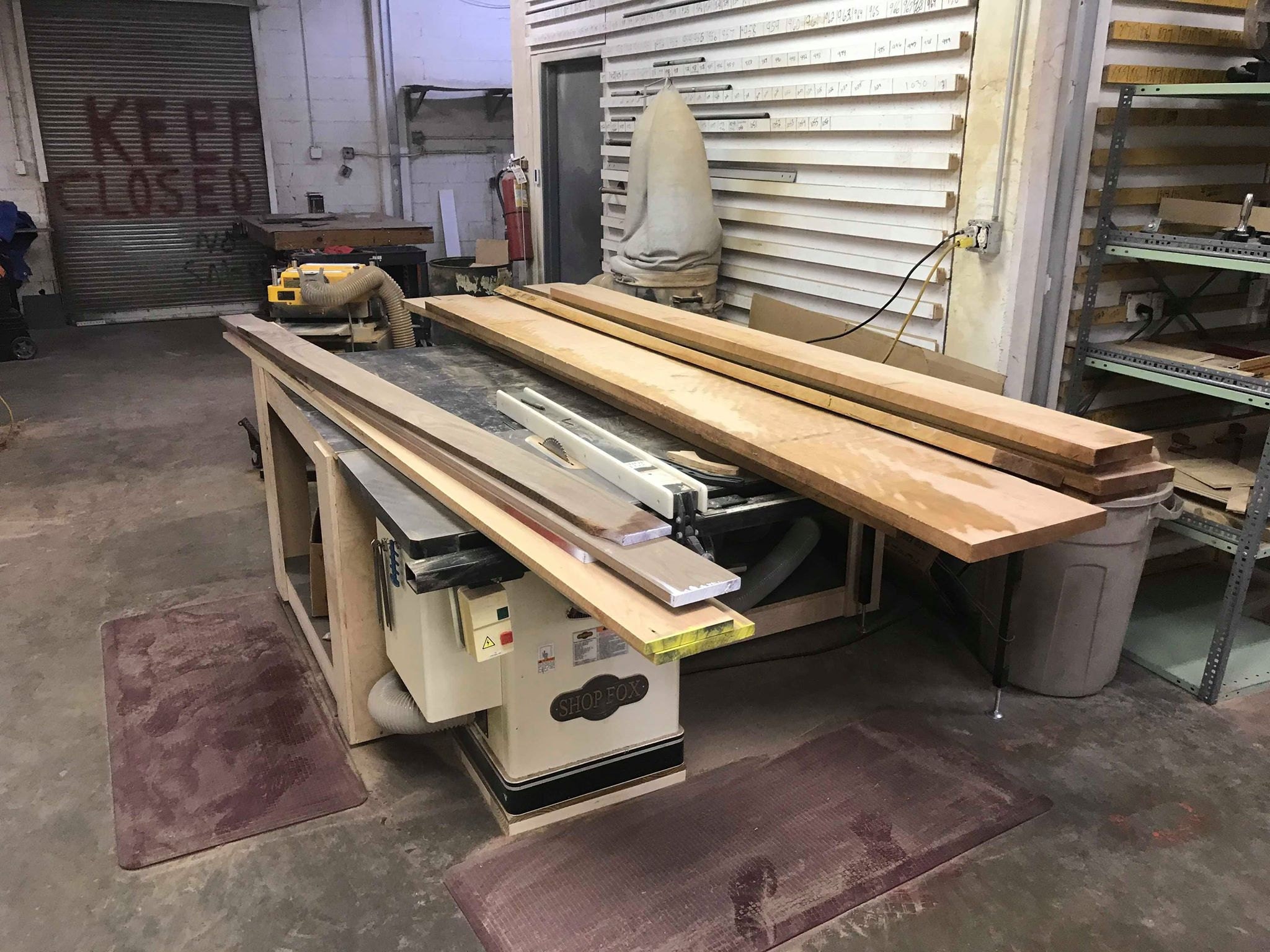 Let's break it down a bit. Glueing up 95 cutting boards individually sounds like a nightmare. My plan initially was to glue up panels big enough to get 3 full cutting boards from, so I was making blocks that were about 50" long, which would give me an extra 2" of wiggle room for blade kerf and planer snipe. I ended up scrapping this idea after two glue ups simply because of weight. Wood sure isn't light. My new plan was to glue up in blocks that would produce 2 cutting boards each, so around 34" long, again giving myself some room. So essentially I needed:
⦁ (45) 9" wide cherry pieces for the main part of the board
⦁ (90) .75" wide walnut pieces for the accent (2 per glueup) 
⦁ (45) .75" wide cherry pieces for between the walnut accents
⦁ (45) 1.5" wide cherry pieces for the end cap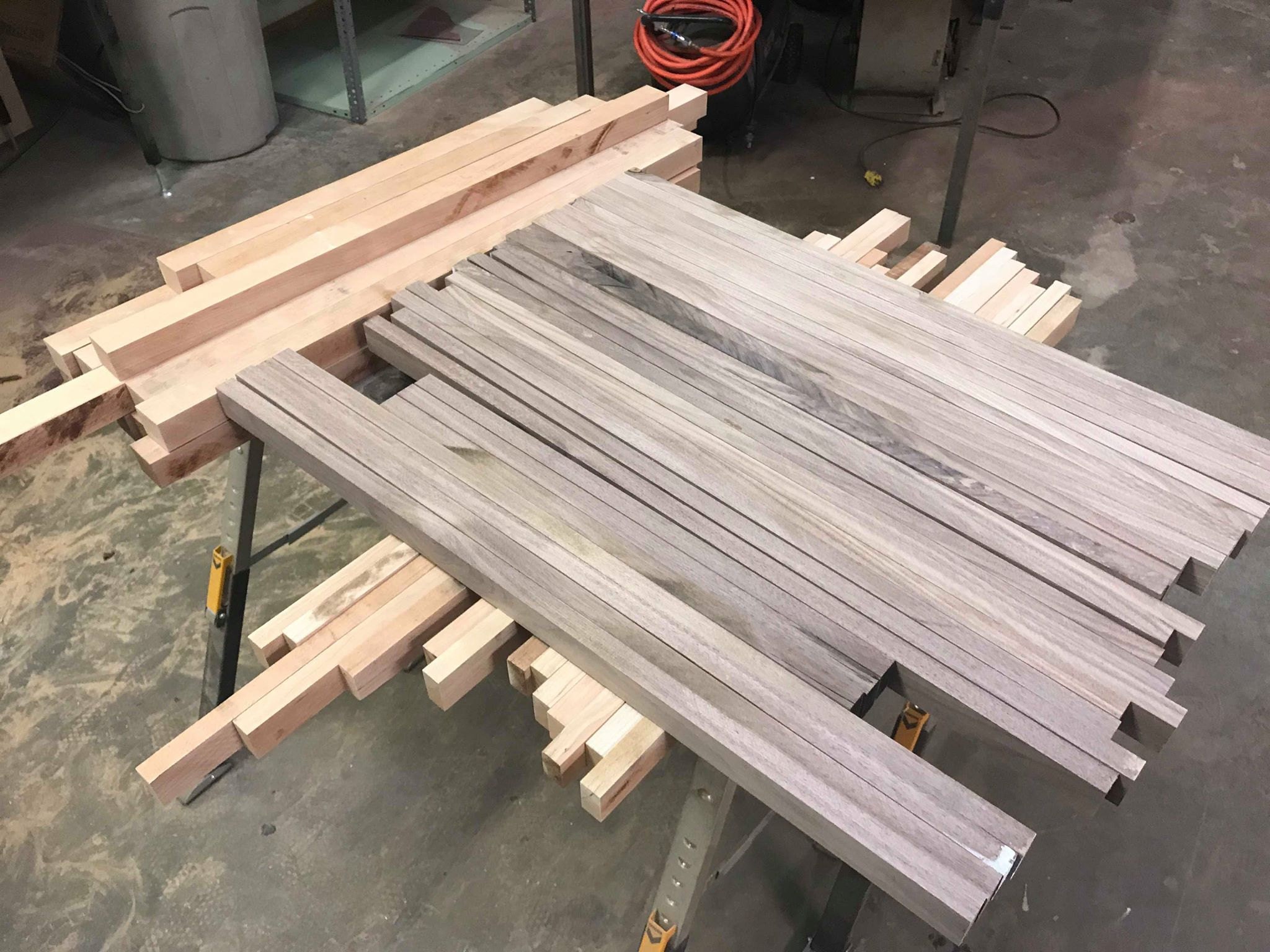 That's a lot. After the first round of cutting up strips I took some time and planed down some walnut pieces I found in the scrap bin at the lumber store to make these cool little live edge tea light candle holders. Quick and easy!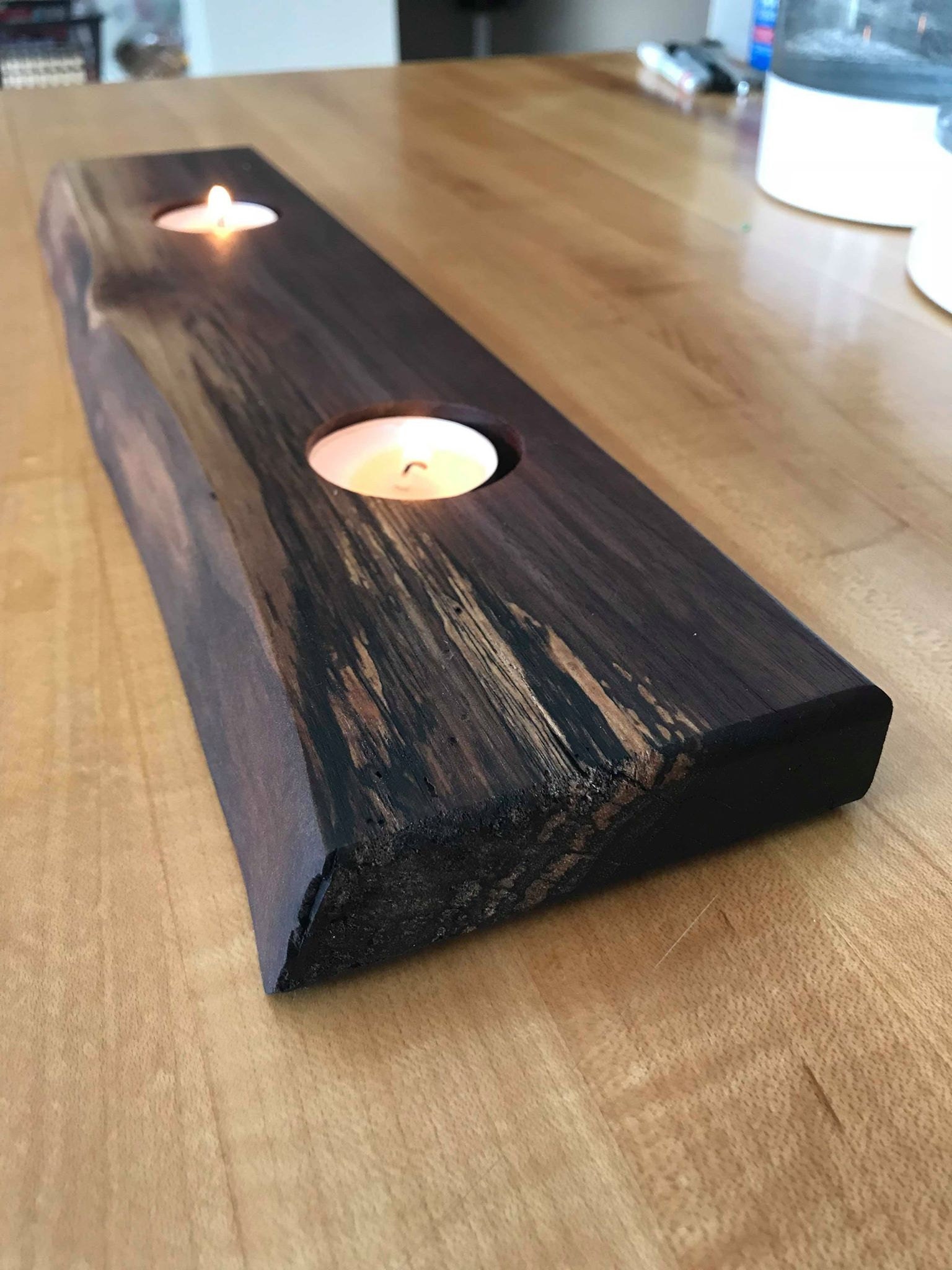 So that's essentially how a couple weekends went by. I would go to the lumber yard, buy more wood than I've ever bought before, load the truck, go to the shop, unload the truck, and start cutting things down to size. After I had a good chunk, I took all the pieces to my house to begin the glue ups. 1 glue up produces 2 boards, so 45 glue ups. It doesn't sound like a lot, but each glue up needs to take about 60-120 minutes to dry. It's a pretty messy process, too. I've gone through about a gallon of Titebond II so far and I still have about 8 glueups left.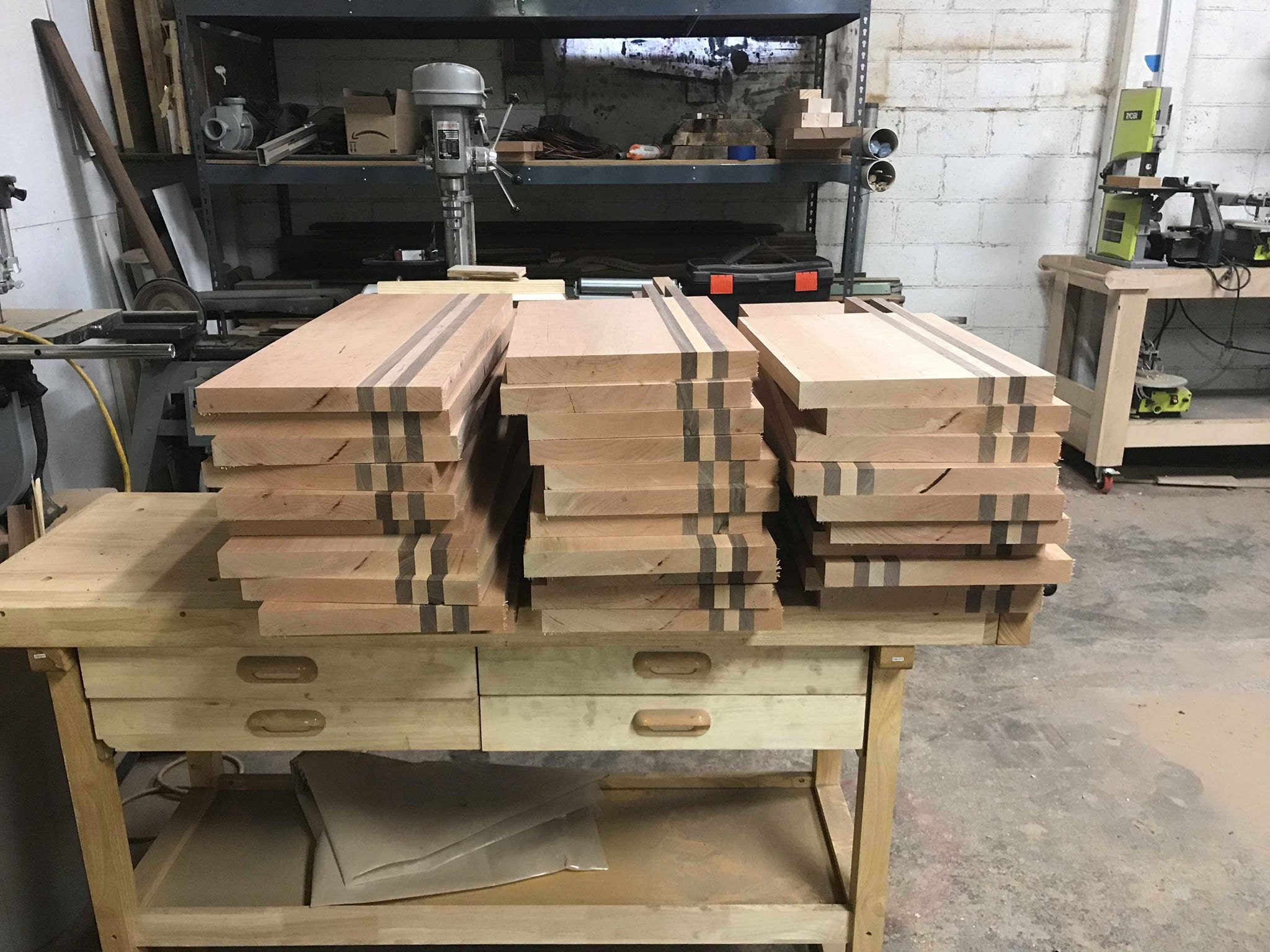 This weekend I was finally able to get back to the shop and start planing them down to the proper thickness, cut them down to size with the tablesaw sled, and then spend way too long doing a 1/4" roundover on all the boards. I'm not looking forward to the sanding process for all of these boards. Thanks a lot to Shular for helping out for a few days throughout this whole thing. Having an extra set of hands makes a world of difference.
This is only about 2/3 of the total order.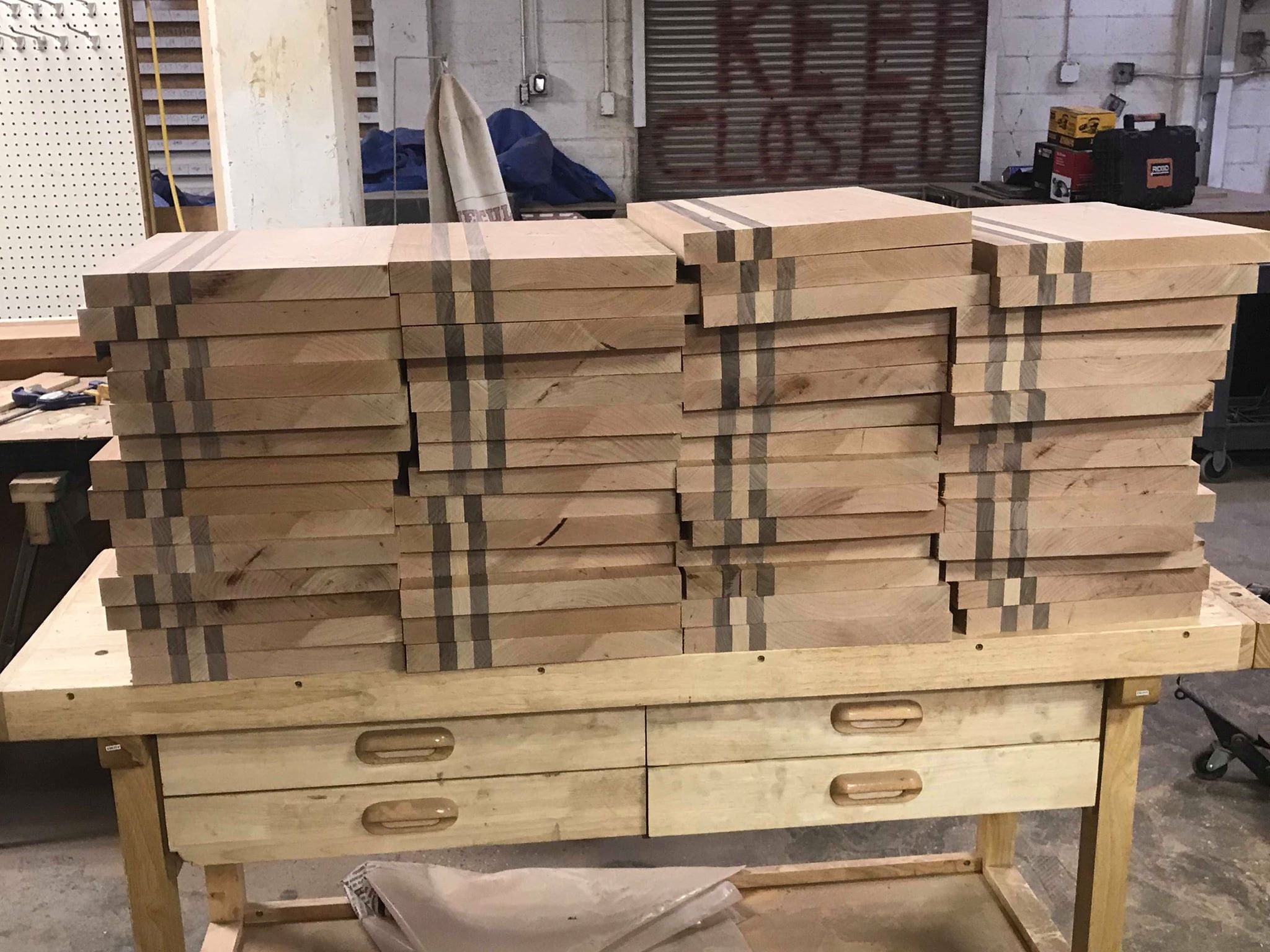 The whole order should be completed before Friday if the rest goes according to plan. I still have a lot of sanding, engraving, and oiling to do. So what's the point of this? It's pretty self-serving, to be honest. Maybe someone has a giant woodworking order and stumbles across this and then remembers to not charge 4/4 prices on 8/4 lumber, but I doubt it. I figured if I wrote about this I would motivate myself to get out there and try to scrounge up more company gift orders. I love the work and planning that goes into something like this and it's been a great opportunity to practice maintaining high quality output.