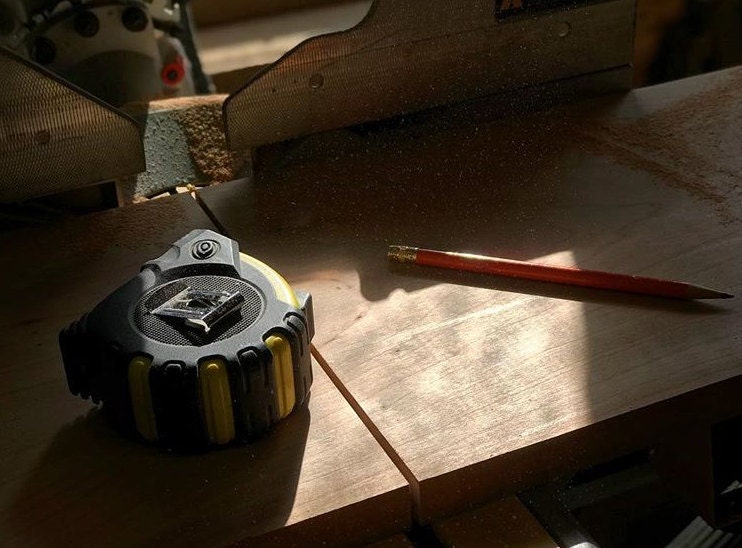 Where it began:  
It's been a pretty crazy year for ya boi, and a lot has distracted me from Wood and Laser and I feel pretty bad about that. Tonight while getting caught up on orders I started being pretty introspective and thinking a lot about how this whole thing even came about, and I feel like the origin story plays a part into why I love what I do with WL.  
I looked up to an uncle I had my entire life. He was a businessman and it just interested me since I was a kid. I knew from an early age I wanted to own my own "something" but I just didn't quite know what "something" was. For a number of years I pursued different thoughts and plans and nothing ever really felt right or clicked. Winter of 2014 I accepted a job doing some payroll work and instantly regretted it. I won't get into the reasons why it was a terrible decision here, but those who know me know everything about this.  
So I started thinking, planning, throwing ideas around, trying new things out, and ultimately not really finding anything that I liked. My friends call them Shawn Schemes. I figured hey maybe I could start selling leather goods. I ordered some samples from China and a woodburning kit from Ebay because I was planning on burning a small logo in the leather goods I wanted to sell. The samples I bought were absolute trash and I ended up playing with the woodburner. I did a really bad Calvin and Hobbes panel that I posted on Reddit and it got quite popular. People wanted to buy it. People asked for different panels, different strips, different things altogether, and I had a ton of fun doing it, even if it took forever.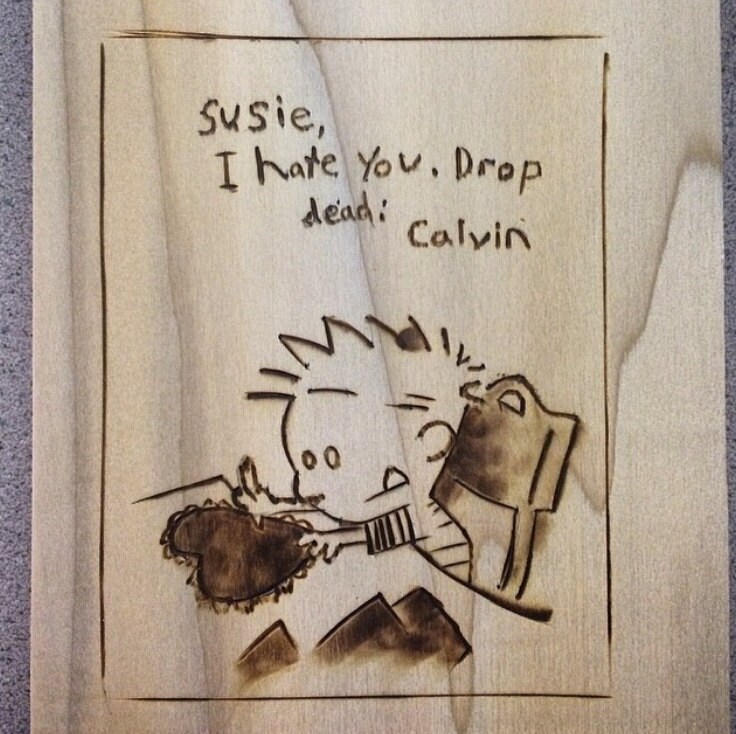 After a few months, I had some basic woodworking tools and continued trudging away at the woodburning in my spare time. I never promoted it. It was more of a word of mouth thing. Let's fast forward a tad.  
January 2016 rolls around and I pay a nominal table fee to set up at a local comic shop. I figured I could sell a few woodburnings. I sold a lot of woodburnings. A few months went by and they had a similar sale so I did it again. I sold a lot more woodburnings. The shop owner asked me to do a few custom things for him and his stores. My roommate at the time, Joel, suggested I get a laser engraver, because the pieces done by hand just simply took too long. There was no scalability. But with a laser, the hard part would automated. Then the conversation steered towards, "Okay, let's say we get the engraver. What do we actually engrave?" My first idea was always cutting boards with some additional items here and there. Phone cases, wall art, combs, candle holders, etc. I wanted to remain handmade as much as possible, and there are a million other companies that import low quality goods to engrave and mark-up. I'm not knocking them. There's obviously a market for that stuff, but I wanted to focus on three things: 
Locally sourced
Customer Loyalty
Unique, quality products
There were some snags at first. For one, I knew next to nothing about woodworking, even less about laser engravers, and jack all about e-commerce. So we buy the engraver and then what? How do we market? How do we design products? How do we do anything? What better way to learn than to just jump in, right?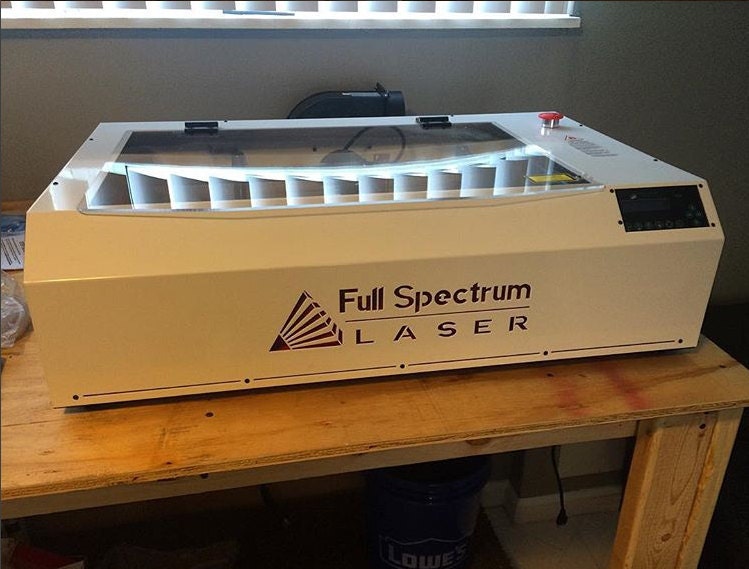 The engraver arrived in August of 2016. We took a couple weekends, designed some Photoshop processes that allowed us to build up a "digital" inventory without actually having to make and keep sample products on hand for listing purposes which saved an absolute boat load of money, and we spent hours manually adding every listing on the site. I honestly thought we would be able to pay off the engraver within a year or two.  
We needed a second engraver within 3 months.  
September was a pretty solid opening month. 11 whole sales, one of them even being the day after the site went live. October was 25 sales. Then November hit us across the ass with 75 sales. In December, we had to shut the site down on the 15th to be able to get all of our open orders out the door by Christmas. From Dec 1st-15th we had 150 orders. One of which even being $1000 worth of orders within a single day. 
Our laser tube died about 3 days before the USPS deadline to get packages before Christmas. We had to make a decision: not deliver on 25 remaining open orders or take the plunge and go to a local woodworking store and buy a second engraver to get the orders done and out the door.  
The orders we had received more than funded the second engraver and the idea was obviously validated enough to justify the extra capacity, so we went for it.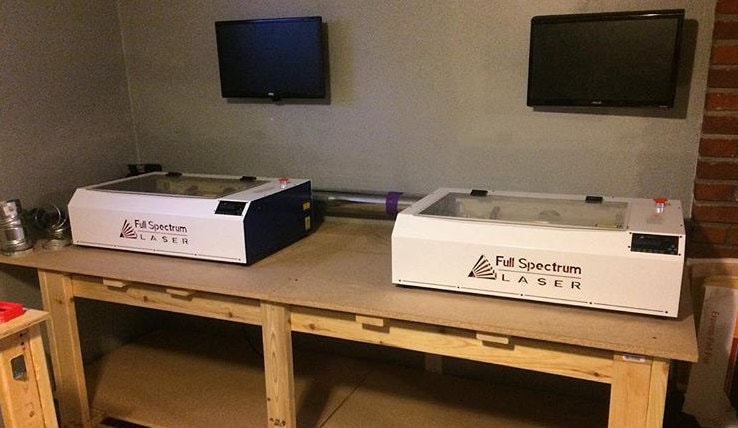 That's the origin, pretty much. From a longshot idea to "Oh damn we're really doing this" within a short few months.  
Orders kept coming in throughout 2017. I learned more about woodworking and started spending a lot of time focusing on custom made higher end specialty boards which I absolutely love doing. The year was a really big success; however, Joel decided to step away from being involved which I totally understood. WL takes a LOT of time. A lot. The rush season usually mean engraving until 1 or 2 am just to get orders out the door before more pile in. I would never have started down this path if he hadn't pushed me on multiple occasions to look into engraving.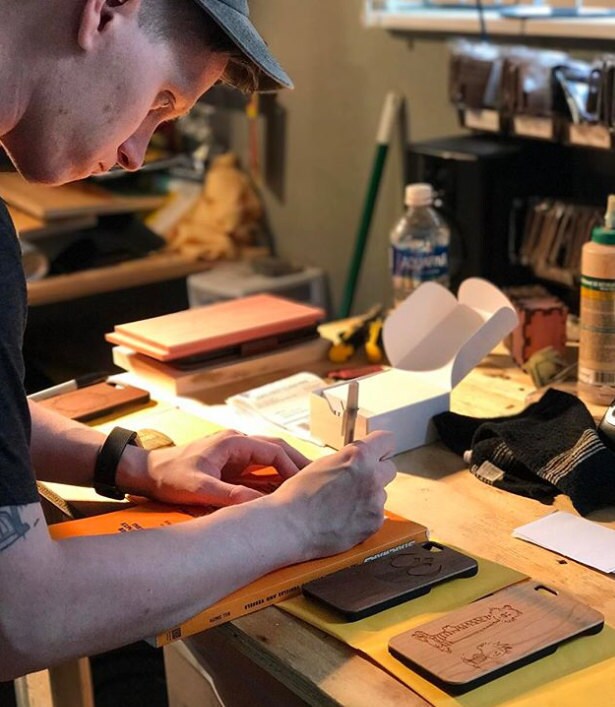 The end of 2017 brought forth a new challenge. A company in Chicago contacted me and asked if they could get 125 cutting boards engraved with their clients' logos. Absolutely. It was a great success and I knocked the whole thing out in about 1-2 weeks. Packaging and shipping took 30 hours alone because each board was going to a different address. That order got me thinking, though. What could I do with this, really? At that point I had only focused on consumer sales. Corporate sales never really seemed attainable. There's usually a lot of red tape with those corporate decisions and they would likely be more apt to go with a bigger name, but it got me thinking at the very least.    
Now we're in present year. 2018 I have shifted focus slightly. I have tried putting a big emphasis on those higher end specialty cutting boards and I've gotten remarkably better at them if I can toot my own for a second. I've focused a lot on doing local events where I can meet customers and make face-to-face sales and that's been a lot of fun and an absolutely massive learning experience. I've done more comic sales, Missouri Retro Game Con, Festival of the Little Hills, Apple Butter Festival, and I was scheduled for Strange Folk Fest but unfortunately I couldn't make it. The holiday season is in full swing again and the orders and questions about custom orders are rolling in. I don't see myself doing anything but engraving orders this weekend and I'm perfectly fine with that.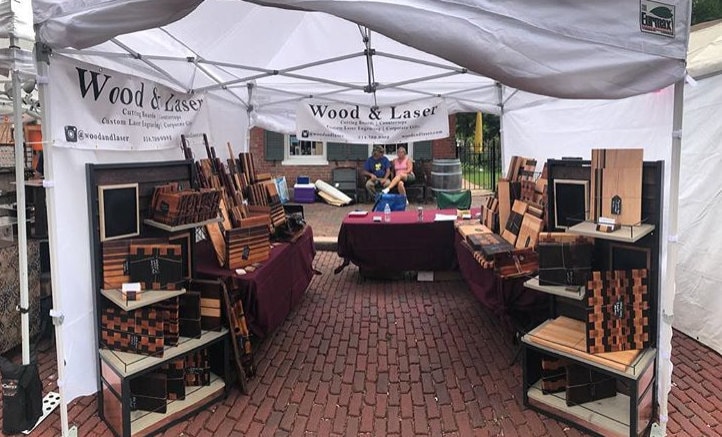 Where it is:   
Well, Wood and Laser has had almost 1400 online sales and easily another 200-300 face-to-face sales at local events. We have shipped orders to every single state in America, including Hawaii and Alaska. We have shipped orders to 24 countries including Sweden, Germany, Australia, Japan, Singapore, Israel, France, Norway, and India to name a few.  
It's in a good place right now. I'm happy with its past success but it would not be here without the support of my friends and family. Thank you all if you have ever purchased an item, shown an interest, hung out with me while completing orders, spread the word on social media, or helped at an event. It truly means the world. But it's just beginning.  
Where it will be:  
I'm been making a decision reminiscent of when placing the order for the first engraver because I'm about to order a new one. I've simply outgrown the two I have and they're no longer at the level of quality and reliability I demand to keep my reputation where it is. As such, I am identifying areas where WL can make some major strides such as:
New products
New designs for existing products
Expanding into corporate orders
Offering wholesale blank cutting boards for fellow engravers
Keeping this blog active with tutorials, updates, etc. 
Branching into various platforms; WL has always exclusively been on Etsy.  
There's a lot of work to be done in the coming months, but my new engraver should be here by the end of the year if everything goes according to plan. 
If you're still reading, thank you. I'm excited for what I have in store for WL and I hope you are as well.